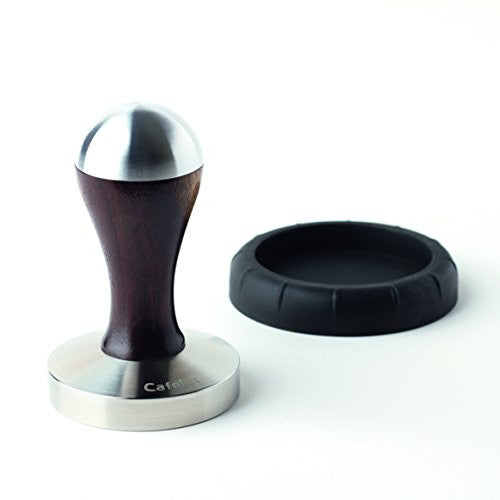 Cafelat Royal Tamper - Violet Wood - 58mm Flat
---
Note: The Cafelat Royal style is discontinued., replaced by the Cafelat Premium tamper. 
This offer is for a returned tamper in Like New condition
The Royal was Cafelat's premium tamper.  The base is made from premium grade stainless steel and has a brushed satin finish. The Violet wood adds old school warmth, and fits the shape of a hand perfectly. The polished top crowns this tamper with an unmistakable elegance, and sits in an included food grade silicone tamper seat to protect it and your counters. Each tamper includes a card with the inspection results and exact measurements. Designed by Paul Pratt, elegant and durable.
58mm flat base
Base is high-grade 304 stainless steel with smooth brushed finish
Polished top, violet wood handle - includes black silicone tamper seat
Approximately 3.75 inches (92mm) tall, weighs almost 13 ounces (351g)
---
Share this Product
---
More from this collection